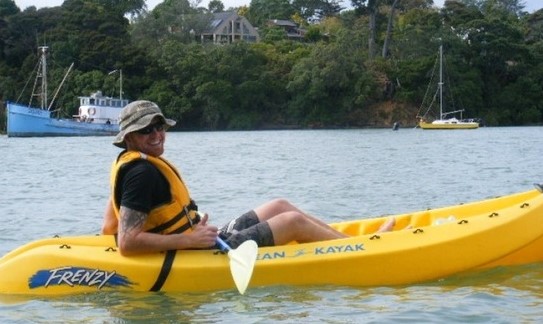 A kayak is perfect for people of all ages and budgets to access local bodies of water and enjoy the outdoors. It offers them a great way to relax, fish, explore and is a top form of recreation. We explore two types of kayaks, the Sit-on-Top and the Sit-inside with each having its own advantages and disadvantages
Sit-on-Top Kayaks
The "sit-on-top" is as the name implies, you sit on top of the kayak which means the cockpit is open and you are exposed to waves, wind and sun. They have wider hulls and higher centre of gravity, too. This kind of kayak is shorter than normal and requires more effort to paddle than a sit-inside kayak. The advantage, though, is that they are very stable and if you capsize, you can re-enter far easier and this is the recommended kayak for fishing and beginner kayakers.
Sit-inside Kayaks
The sit-inside
is also as the name implies. You sit inside a partially enclosed cockpit that provides you with all the elements that you do not get with a sit-on-top kayak. In addition, you get a skirt that seals you inside the cockpit too. They have a lower centre of gravity as the paddler's seat will be positioned below the waterline instead of above like the sit-on-top. Kayak designers have a lot more flexibility in designing a sit-inside kayak thus can this kayak belong and slim or short and wide and designed for specific purpose especially for advanced kayakers. In this same sit-inside category you also get a Touring Kayak.
Touring Kayak
The Touring kayak is also a sit-inside but equally suitable for experienced and beginner kayakers. It is designed as a stable kayak with all paddling abilities taken care of and, as the name indicates, designed for peaceful touring on calm and stable waters.